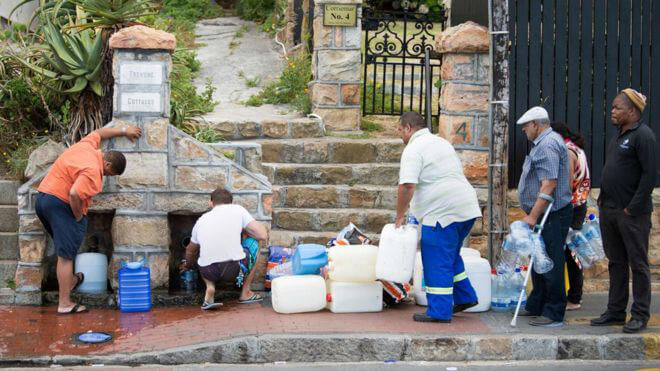 -->
Residents in the South African city of Cape Town have been warned to "save water as if your life depends on it" to avoid the supply being shut off.
A severe drought has forced the city's municipality to limit consumption to 50 litres (11 gallons) per person per day.
Officials are urging people to switch off their toilet cisterns and limit flushing to conserve water.
The head of the provincial government said if the taps ran dry it would be "the disaster above all disasters".
Helen Zille said it was still possible to avoid what has become known as Day Zero, when the water supply will be shut off.
She said a full crisis could still be averted if everyone used 50 litres or fewer a day. "That is not difficult if we all put our minds to it in our homes and in our workplaces," she said.
Ms Zille then offered some suggestions on how to save water.
"Turn off the tap of your toilet cistern and use all of the grey water in your house from washing, save it, and put it into your toilet cistern", she said.
"No-one should be showering more than twice a week at this stage. You need to save water as if your life depends on it because it does."
Last year, Ms Zille revealed that she was showering once every three days. "I regard oily hair in a drought to be as much of a status symbol as a dusty car," she wrote in a column.
Cape Town, a popular tourist destination, has been hit by its worst drought in a century.
Much of southern Africa has been recovering from a drought caused by the El Niño weather phenomenon, following heavy summer rains.
However, Cape Town is still gripped by a drought and has had very low rainfall for the past three years.
Change of habits
Mohammed Allie, BBC News, Cape Town
My wife does not use the shower any more. Instead, she boils about 1.5 litres of water and mixes it with about a litre of tap water to have her daily wash while the rest of us catch the slow running water in a bucket for re-use in the toilet cistern.
Like most residents of Cape Town, my household of four has had to change our habits to conserve water.
A bucket and jug have now become essential tools for me and my children when taking a quick two-minute shower.
Last week, Mayor Patricia de Lille warned the city had reached a "point of no return".
"We can no longer ask people to stop wasting water. We must force them," she said at a press conference.
"Despite our urging for months, 60% of Capetonians are callously using more than 87 litres per day," she added, referring to the current daily limit.
A person uses about 15 litres per minute for a typical shower and the same amount when flushing a standard toilet, according to WaterWise, a South African water usage awareness campaign.