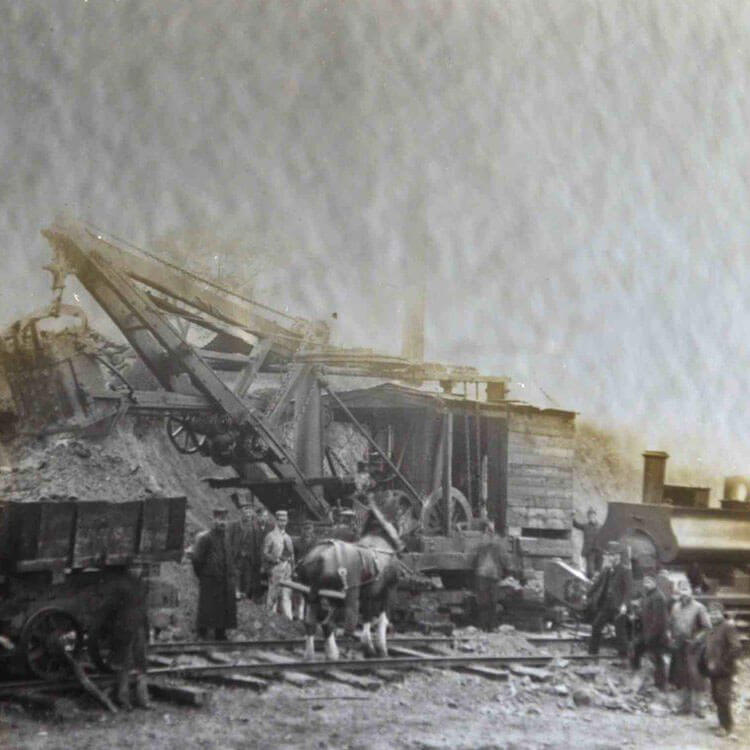 Sometimes the most important, long-lasting work you ever do isn't sexy, fun or exciting.
The water Glaswegian's were drinking from the Clyde was filthy, Katrine's water is so pristine that it hardly needs treated even for today's high standards.
Well done to Scottish Water's Steven Walker for rescuing the photographs from the skip last month.
These guys in the 1880's worked in all weather with pickaxes and shovels to tunnel and transport water from Lough Katrine to Glasgow.
They are all long gone but their great, great, great, great grandchildren are still benefiting from the tough shifts they put in day after day over 130 years ago.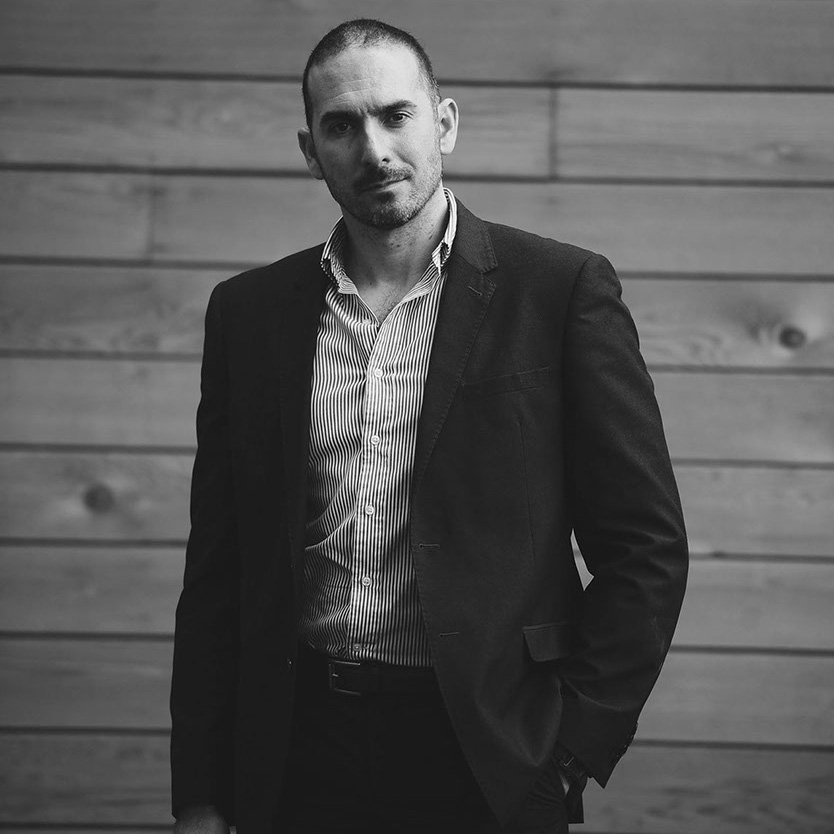 BWEC Director Stephen Smyth has spent the last few months working with water companies across the British Isles. His thoughts on the challenges facing the Team Leaders were published in the 200th Edition of the Institute of Water journal in December
Historically, Team Leaders or front-line managers in the water industry have been promoted into the role due to skill and experience in their particular operational area. The Team Leader's main responsibilities were to "manage the men" who carried out the operational activities, as they themselves once did, in a set geographical area. Most of their time was spent dealing with complex operational challenges while ensuring that sufficient cover was provided for routine activities.
This position is critical to the success of every water company's performance. Using the analogy of a ship, Senior Management act as navigators, setting vision and strategic direction, while the Team Leaders are the engine room and rudder driving the ship in a set direction.
It's the Team Leaders who have the local operational knowledge to know when an asset is close to a failure or which combination of events are likely to lead to a pollution incident.
It's the Team Leaders who have the experience and confidence to organise the repair of a major trunk main burst at 3am.
It's the Team Leaders who can spot trends in complaints and instinctively understand root-cause.
Finally, it's the Team Leaders have the greatest impact on staff morale. A team can suffer stagnant pay, frustrating policies, a heavy workload and irate customers if they have a boss they know has their backs and who brings them together into a close-knit team.
However, due to changing organisational structures, the drive for efficiency savings and more stringent quality, financial and environmental regulation, the responsibilities of this fundamental position have changed markedly over the last 10 years.
As well as the usual operational guidance and direction, Team Leaders are now expected to take a much greater role in:
■ purchasing and budget management
■ health & safety
■ premises management
■ HR issues such as absence and performance management
■ stakeholder management and investigation of complaints
■ regulatory reporting
"The role of an operational team leader is exceptionally challenging and requires the position holder to be proficient in a number of disciplines i.e. technical skills, Health & Safety Leadership, Procure to Pay, Finance and people management to ensure their area operates efficiently within the realms of the Regulatory Framework". Carolyn Bywater – Catchment Manager Yorkshire Water.
Considered in isolation, the addition of each new responsibility makes perfect sense and is a testimony to the importance of the Team Leader role:
Who better to manage procurement and budgets than the Team Leader responsible for spending it in their area?
Who better to check contractor's compliance to contract terms than the manager who requests their services?
Who better to investigate customer complaints than the man or woman with most local knowledge of the area?
Who better to take the lead in managing underperformance in the Team than the line- manager who best understands the standards required?
However, collectively the range of extra duties imposed on Team Leaders has added significant pressure to those in the role.
The management of budgets, contracts, contractors, complaints, regulatory performance and endless reports takes time away from the operational areas in which they are most confident and qualified.
Logic dictates that if a Team Leader is spending half a day trying to understand a new Contractor Framework or the requirements of a new report or navigating the legal mind field of performance management, they can't spend that time dealing with the operational issues they are best suited to tackling.
The time taken to properly complete each new task is often underestimated by the specialists who have gladly relinquished what (in their view) is a relatively straightforward job.
For example, a finance professional with a degree in accounting will check through budgets quicker than the average operational team leader.
The same is true for those jobs previously undertaken by trained health & safety managers or HR professionals.
The risks to water companies performance due to overloading the role with traditionally non- operational responsibilities has largely been overlooked by most companies. The problem is compounded further as the majority of most experienced team leaders are likely to approach retirement age before 2023.
"People, and the skills those people have, are the key to turning investment in infrastructure into energy, clean water and a better environment. There is intense competition for talent, with 36% of sector vacancies identified as hard to fill due
to a lack of skilled applicants. This is now higher than in any other sector (UK figure is 23%). Policy makers and regulators have yet to approach the challenge as sector-wide or to quantify the value of people as a critical asset." UKCES (2016) Employer Skills Survey
Accepting the importance of the Team Leader position and the significant new skills required in the role, what options are available to senior managers who need to get the best out of every Team Leader?
In the current financial climate, it's unlikely the extra duties would return back to the functional teams they came from originally. After all, it's not likely that the HR, Finance and Customer Service teams of each water company have been sitting bored and idle since they transferred some of their responsibilities!
A halfway option, taken by many water companies is creation of the "Business Partner" role. A Finance/HR/Health & Safety professional provides advice and support to Team Leaders
in their specialist area. However, a simple comparison of the number of Team Leaders compared to Business Partners in any given company will show that the time they can dedicate to each manager is very limited.
Finally, water companies can invest seriously in the development of those in this vital position.
To reach their full potential, effectively managing budgets, contracts and staff while providing a link between senior leadership who set the vision and front-line operational staff who make it happen, Team Leaders will need:
■ Quality training in the fundamentals of financial, contract, asset and stakeholder management
■ Combined with an industry-specific leadership development program and
■ One to one coaching to guide the individual's development journey
As an example of best practice, Scottish Water is a company who have invested heavily in developing their Team Leaders over the past five years. Recognising the added responsibilities of the role, they focused on providing each Team Leader with the confidence and skill to grow into the position.
Every Team Leader has the opportunity to study for a third-level qualification in water operations management, to work with their own mentor and attend a range of CPD events. The return from this investment can be seen in the company's performance and in the enthusiasm in which their team leaders embrace the challenge.
Scottish Water's Lauren Gourlay (one of the only female Wastewater Team Leaders in the company) said, "Balancing out day-to-day operational needs with a wide range of other responsibilities can be challenging, but ultimately delivers a sense of reward that I've not yet found in any other job role. Excellent people management and a keen passion for the role is key to success; as with effective team building, subsequent empowerment, and being committed and driven to always deliver excellent customer service, we can continue to be the business that Scotland trusts to deliver clean, safe and high- quality drinking water."
The Team Leader role within the water industry has been around since at least Victorian times. That have always been the experienced, knowledgeable, dedicated practice professional that other operational staff looked to for support and more senior management sought for operational knowledge.
They can still be the link between the organisation's leadership and it's front-line workforce but will need support to turn vision on paper into results on the ground.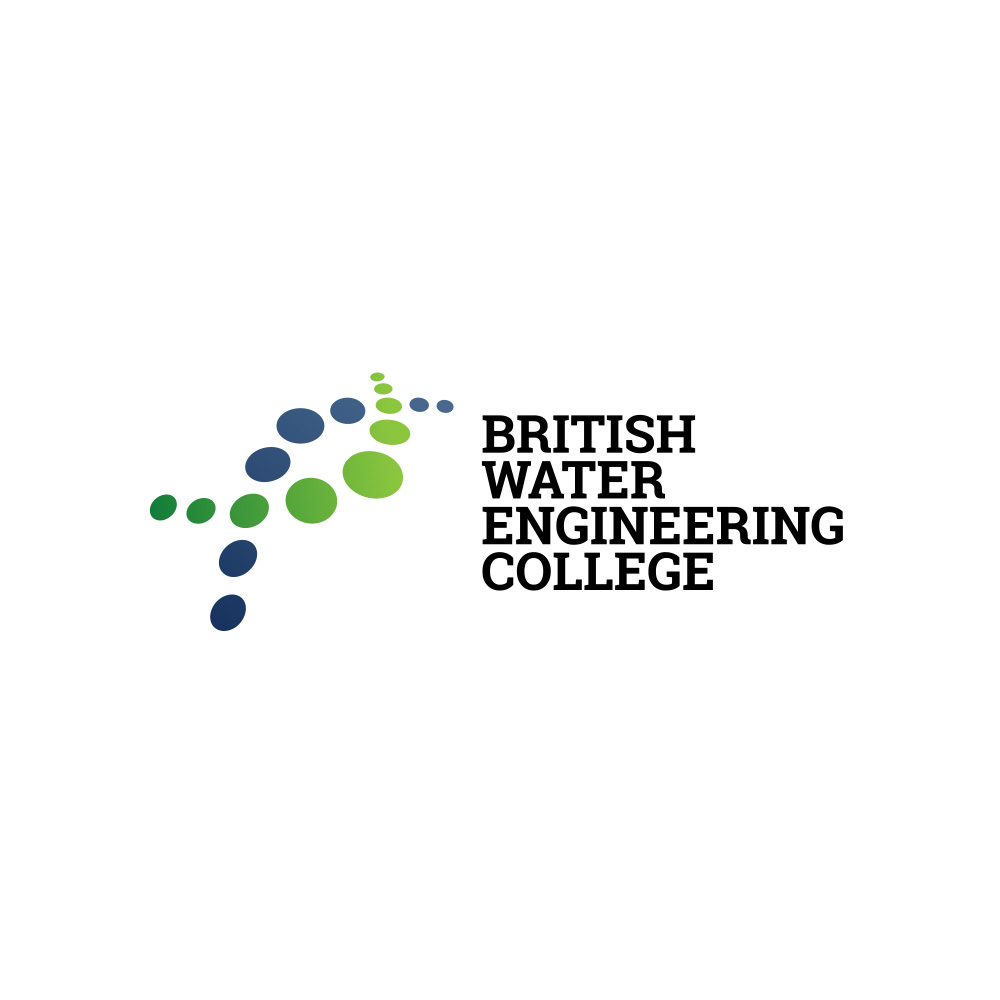 Congratulations! Your interview was weeks ago but just as you were starting to forget it and begin the search process all over again (see part 1/7) a letter arrives telling you the position is yours.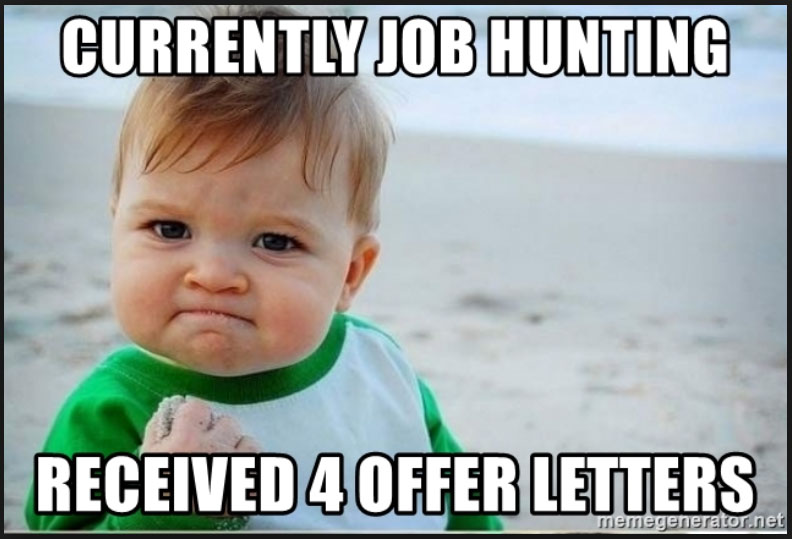 Once you read the letter, take a moment to reflect back on all the hard work that got you to this point. All the networking, research, applications, anxiety and stress you went through earned that letter, take time to appreciate the success.
Now there are a few quick steps you still need to take to make the job yours and give yourself the best possible start with a new employer.
The Offer Letter
Now that you have congratulated yourself, read the whole letter again slowly. What actions does it ask you to take?
As a minimum, you will need to reply in writing or via email to confirm that you accept the position. Get this important step out of the way immediately. It needn't be anything fancy, something along the following lines should suffice:
"Dear XXXX

Thank you for writing/emailing to offer me the role of XXXX within XXXX.

I am delighted to accept the offer and look forward to joining the team following my XXXXX notice period with my current employer.

Regards

XXXX"
Remember though, even though you have the job, you are still being judged. Double and triple check the postal/email address, spelling of the addressee's name, spelling and grammar etc.
The First Call
The letter/email should be followed up with a call, ideally to your new line-manager but at least to whoever sent you the offer letter.
The purpose of this first call is to confirm your acceptance of the post, thank your new boss for selecting you and let them know how keen you are to be part of their team. It's also a good idea to try and arrange an informal meeting with your new manager as soon as possible before you start officially.
Meeting the New Boss
Assuming they accept, it's usually a good idea to meet at the site/office you are going to be based. This gives you an opportunity to meet your new colleagues, get a sense of the atmosphere and learn lots of useful titbits you'll need for your first day e.g. travel time, car parking, dress code, canteen facilities etc.
Smart-casual dress is usually fine for this meeting. The impression you want to leave your new boss with is of someone who is professional, calm and keen to make a positive contribution to the organisation. Ask your boss to recommend some pre-start reading material that you can take away to help you hit the ground running in the new role.
Working your notice
Accepting this role will usually mean that you are leaving another. Make an effort to leave on good terms with your soon-to-be former employer. As soon as you have confirmed the new role is yours, arrange a meeting with your line manager. Meeting to inform your boss that you are leaving is usually better than telling them over email. Simply explain that you have been offered a job and are keen for a new challenge.
Follow the meeting up immediately with a simple resignation letter, which will formally start your notice period. The letter should be professional, polite and show you have considered the impact of leaving the team. Ideally, you want to leave on good terms with all your past employers. Leave them missing you and speaking well behind your back rather than the alternative!
For example:
"Dear XXXX (your line-manager's name)

It is with some regret that I am writing to confirm the beginning of my four-week notice period. I have been offered and accepted a new position with XXXXX (new company).

My last day with the company will be XX/XX/XXXX.

Over the notice period, I will complete detailed hand-over documents for whoever takes over. As Project/responsibility XXXX is considered business-critical, I would suggest that some time be freed up for XXXXX (team member) to shadow me as they are best qualified to oversee the project/responsibility until a permanent replacement is appointed.

Finally, I wanted to thank you for all your guidance and support over the past XX years. I will always look back on my time with XXXXX (old company) fondly.

Regards"
While you're working your notice or waiting to start, I would always advise reading Richard Templar's classic "The Rules of Work." This fantastically well written book is a guide to success in almost any workplace and I can't recommend it highly enough. You should also spend time learning as much as possible about the industry/company you will be working in. Your new employer will likely expect you to know very little about how their business operates and the challenges they face. If you can pleasantly surprise them with what you know on Day 1 it will make a fantastic first impression.
First Day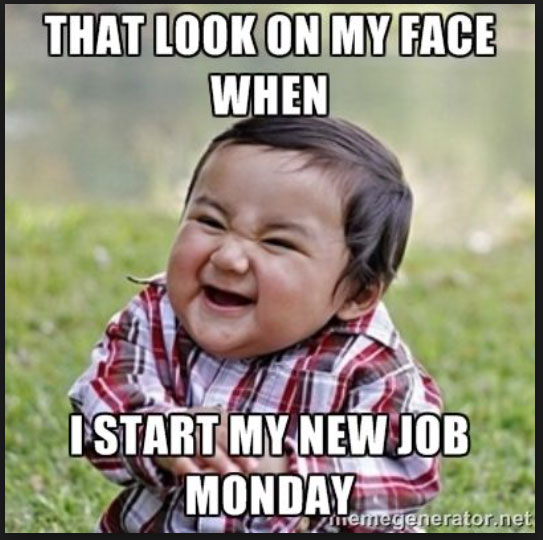 This is the first day of the next stage in your 2000-week journey through work. Set your clothes out the night before and leave the following at the door so you won't forget:
• A cup
• Milk (if you take milk with tea/coffee)
• Tea/coffee
• Cake/biscuits for your first tea break with the new team
• Pens
• Notebook
• Packed Lunch
• Some cash in case your team decide to have coffee/lunch off-site the day you arrive
Leave in plenty of time to get in early and set up your desk. As your colleagues arrive, stand up, smile, introduce yourself and offer your hand. Make a real effort to remember their names and make a good first impression.
Finally, enjoy knowing that your efforts got you where you wanted to be and make the most of the opportunity.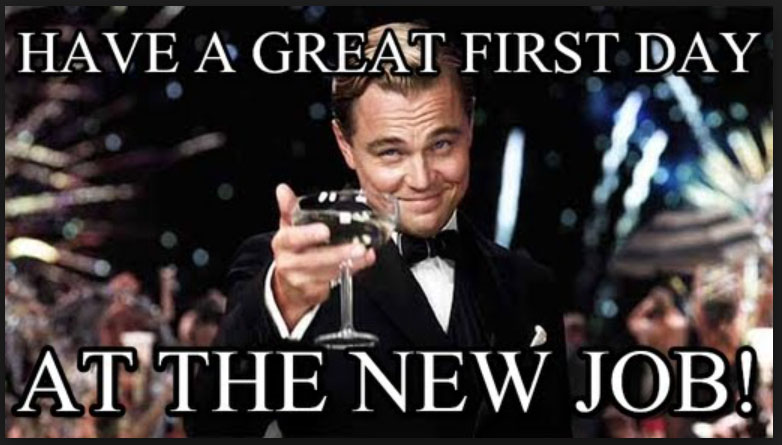 The only thing worse than getting the thin envelope a couple of weeks after the interview is getting nothing. Sadly, it's still all too common. While employers know this is bad practice, many still think it's too much trouble to send a standard letter. If you haven't heard from the company a month after the interview, you almost certainly haven't got it. Nevertheless, you should still call HR and politely follow up, asking when you're likely to know the outcome of the interview you sat last month.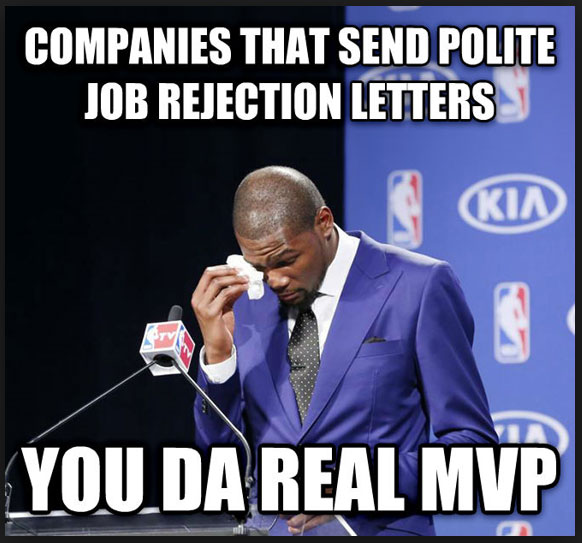 On receiving the rejection letter or HR informing you they have gone with another candidate, you have to fight the disappointment and finish the process in a way that will help you with the overall objective of getting the right place to spend some of your precious 2000 weeks.
While the organisation may not be willing to hire you on this occasion it may be that you still passed the interview. Many organisations now score each answer you gave and the overall interview. Most will have a pass mark indicating if you were suitable for the role, but another candidate who scored higher. In some sectors, particularly public sector organisations, there is a good chance you'll eventually still end up with a job offer. Many companies hold a list of successful candidates who haven't been appointed so they can make offers on other similar positions, without going through the whole recruitment process again. If you are on a reserve list, it makes sense to keep in touch with the organisation over the next 12 months. Just a quick "catch-up" email with the HR representative or the prospective team should be enough to let them know you are still available.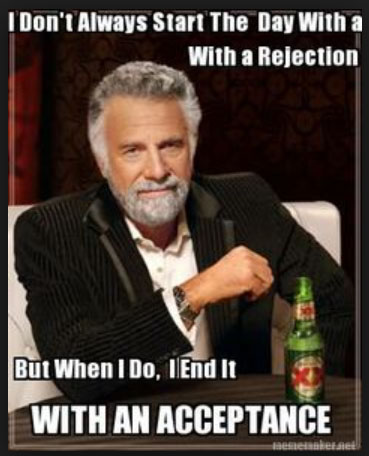 No matter how you preformed, you need to get feedback on the interview. Politely request feedback in writing and follow up with a phone call. This is absolutely crucial. You need to understand which answers you gave scored well with the panel and which fell short of the mark.
Climbing the corporate ladder, getting the best roles, and even earning more than most, all require you to master the skill of job interviews. It really is as simple as that. Feedback from every interview allows you to refine each answer and not make the same mistake twice.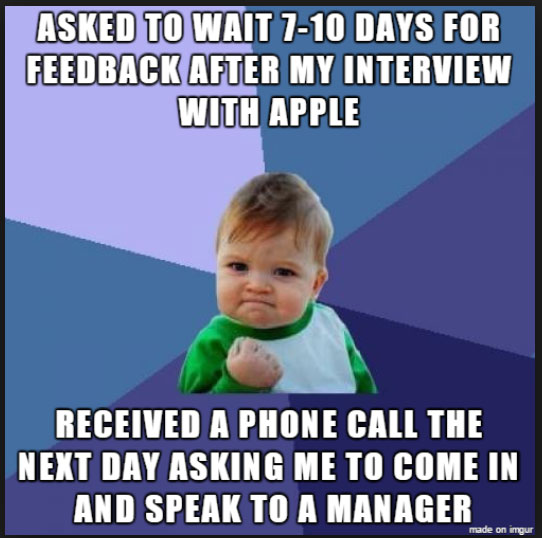 I would advise anyone who is serious about their career success to buy a reasonably expensive document folder* for keeping all your interview notes and feedback. This will become as important, if not more, than the one holding all your qualification certificates.
In this folder you will keep:
• Your notes from immediately after the interview including the questions asked and anything you learned or should have done differently
• The answers you gave to each question
• Written feedback/scores on those answers
I really can't overemphasise just how valuable this record of unsuccessful interviews will become.
For example:
• Question 1: "Can you please provide us with an example of when you have successfully managed a complex project?"
• Answer 1: "Oversight of our last office relocation"
• Panel score: 5/10
• Feedback: "well set out answer but the project was at a very low level compared to the responsibility of this position within our company"
• Action: Keep the structure but never use that example again! While it might have served you well in the past now you need an example that demonstrates ability to manage projects at a higher level
• Question 2: "When have you managed a team to achieve its goals?"
• Answer 3: "When I filled in for the hotel manager who was ill for six months, our customer feedback scores on Trip Advisor increased by 20% and we were able to increase occupancy rates from 75% to 85%."
• Panel Score: 9/10
• Panel Feedback: "Excellent answer demonstrating all of the behaviours we would expect to see from the successful candidate "
• Action: This answer is a keeper!
• Question 3: "Explain to us your sales performance over the last 3 years."
• Answer 3: "£2M in 2016 (2% above target), £2.5M in 2017 (20% above target) and £3M in 2018 (10% above target)"
• Panel Score: "6/10"
• Panel Feedback: "Figures seem impressive given the consistent over target performance, however not enough detail given as to how it was achieved. No mention of developing stakeholder relationships, ethical selling and long-term sales strategy"
• Action: Keep the figures but include the extra qualitative detail to add colour.
If you are very lucky, you will also be invited to speak face to face with a member of the panel and discuss more informally your performance at interview. In most organisations a manager's time is precious. If they are willing to take time to sit and help you improve your interview technique or suggest what additional knowledge, skills and experience you need to develop to have a better chance of success, you should always accept. It would also be an indication that the company genuinely cares about people and that you made the right decision to apply in the first place.
It wouldn't be unusual for the panel Chair to make the offer to meet an unsuccessful candidate once they have asked for feedback, especially if they saw something they liked even though they weren't successful on this occasion. It may be that while you were unsuitable for the position you applied for, the panel believed you would be ideal for something else within their organisation.
Understandably, you will be disappointed to get a thin envelope, however, this too is part of the journey of building a career in which you can "be passionate, be exceptional and make a difference". I can't think of anyone who has built a successful career or business without setbacks along the way. The experience makes you stronger, it hones your interview skills and builds resilience. You have a much greater chance of landing that dream job because of the unsuccessful application than you would have if you had never applied.
Get back into the job sites, papers and recruitment agencies. Arrange some networking meetings and improve on the areas of your CV or interview technique this experience showed need work. Being turned down after a job interview can severely dent your confidence. Many people dwell on being turned down, often forgetting the bigger picture – finding a place to spend your 2000 weeks in which you can be passionate, be exceptional and make a difference. Rejection, while never pleasant, can often be blown out of proportion in our heads and viewed as a sign of failure. However, by thinking objectively, you can use it to build on your core strengths, address development points and ultimately find the perfect place to spend half your waking life!
*expensive so you'll look after it

Andrea Erickson wrote an excellent blog on Tuesday for the World Bank entitles "Solving for Water Security at the Source".
Working in partnership with land owners and environmental groups to improve the raw water quality and in turn make Treatment more cost effective is a very effective and sustainable strategy. In the UK we call the process Strategic Catchment Management Plans (SCaMP).
SCaMP is a move away from the asset and technology heavy direction the water industry has been traveling in for the past couple of decades and I think (hope) we'll see many other water authorities at least consider similar options in future before going for another big capital scheme.
http://blogs.worldbank.org/water/solving-water-security-source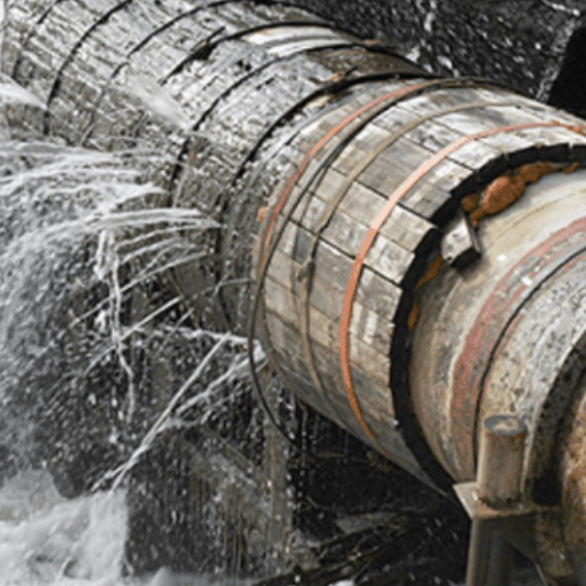 Michael Gove has asked water company bosses to explain why they have failed to meet leakage targets, at a time of one of the driest summers for years.
The environment secretary said customers expect a "reliable and resilient water supply".
It comes as farmers are due to discuss the effect of the extensive heatwave on food supplies at a "drought summit".
The UK has seen the driest start to the summer since 1961 with rainfall on Thursday and Friday the first in weeks.
Water levels are low in some reservoirs and supplier United Utilities (UU) has said it will introduce a hosepipe ban affecting seven million people in the north-west of England from 5 August.
Mr Gove said water firms "have much more to do to tackle leakage", adding: "That is why I have repeatedly made clear that companies must improve and recently wrote to them to outline my expectations during this period of dry weather.
"Next week I will ask the chief executives of the water companies that have failed to meet their leakage targets to a meeting at Defra [Department for the Environment, Food and Rural Affairs) to discuss how they are going to address this serious issue and improve their performance."
UU has been accused of "wasting" 430 million litres of water every day from leaks.
The GMB union said its research showed the supplier was allowing 175 Olympic-sized swimming pools' worth of water to go "down the plughole" every day.
Earlier this month, UU said "reducing leaks is a top priority".
On Sunday, a spokesman for Water UK, the trade body for the major water companies, told the BBC: "Tackling leakage is one of the water industry's top priorities.
"We know how important it is for customers, and since the mid-1990s companies have successfully managed to reduce leakage levels by a third.
"We know there is more to do, which is why water companies are currently developing ambitious plans to cut leakage even further."
At separate talks with government officials, chaired by National Farmers' Union (NFU) president Minette Batters, irrigation water shortages, a lack of fresh forage for animals and growing conditions for cereal crops will be discussed.
Ms Batters will meet Defra officials, rural agencies and farming charities on Wednesday, after a month that has seen England receive just 15% of its long-term average rainfall.
She described the situation as "hugely challenging" for farming, warning the thunderstorms and showers some areas are receiving "won't mitigate the many issues farmers are experiencing".
She said: "There could be serious concerns for many farmers if this extended spell of warmer, drier weather continues as the long-range forecast suggests."
The EA said it has responded to 44 "significant" environmental incidents since the end of June, including moorland fires, algal blooms, dry boreholes, low river flows and fish rescues.
The last month of dry, hot weather followed the driest June since 1925, according to the EA. It has caused the water level in many reservoirs to fall dramatically.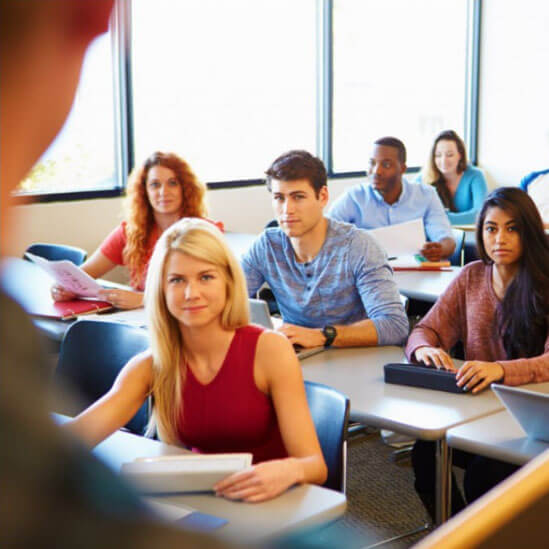 By Stephen Smyth (10th July 2017)
Back in March 2017, I wrote about my best ever day in work. It took me two hours on a plane to write. If I had known how long it would then have taken me to write part two – my worst day – I'd have promised it in April 2020 and not 2017! In truth, I actually wish I'd never promised it at all. If we are honest, none of us like to look back over our perceived failings. However, as I think through my working life, there is a 'worst day' which stands out as one I have never forgotten. As uncomfortable as it may be to share, reflecting on this day has offered me an invaluable "lived-learned" experience, which has shaped my practice, both professionally and personally, for which I am grateful.
I was teaching at a large UK university. It was a subject I was comfortable with, and a lecture I had given many times before. I had written the material and knew it so well that I hardly needed to prepare.
In front of me were a class of graduates I'd been working with for almost 18 months. We had a good rapport – they were a likeable class and as a group they had responded well to my teaching style. We were about to complete the last subject in their qualification, which would determine their final classification. That morning, the mood in the room was positive as I gave the same general talk to the group that I had given so many times in the past at this stage of the academic year.
"What classification do you want? If you want a distinction and to produce a piece of work which will set you apart as a rising star in your organisation, I can help you. It will be difficult; it will take a lot of your time and energy; but in the end you'll have something you can look back on with pride for the rest of your career. Do the work with my guidance and you will get that distinction."
So far, so good. I had their attention and I knew about a third desperately wanted to be awarded the highest classification.
However, in every group there are those who by the end of the course just want to pass and move on. I've always thought it was just as important to put as much time and effort into those learners, as those who are much more engaged. To illustrate that point I made an off the cuff remark that I will always regret.
I looked at a guy we'll call Kevin. He was dressed in an old tracksuit, his posture and body language were awful and he looked totally disinterested in what I was saying.
"…or if you're like this guy here and you just can't be bothered anymore, I'll help you get over the line and pass."
The class sniggered and even Kevin smiled and seemed to pay more attention. The rest of the day passed off without incident.
That night the class invited me to meet them before they went out to celebrate the end of their course. I turned up about 10:30PM and it was obvious that the group were in good spirits, in more ways than one..! I bought them a round of drinks and was enjoying their company when Kevin came over to me with a drink. He was the only one of the group to realise that I didn't drink shots and he brought me a bottle of beer. As he passed me the beer and I thanked him he asked if he could speak with me.
"I've really enjoyed these two years, Steve. Thanks for everything."
My good mood was improving with the beer and the complement so I replied easily,
"Of course, my pleasure, I've enjoyed it as much or more than you guys".
What he said next floored me.
"Steve, my name is Kevin; I want you to know who I am."
Now I have to admit that I didn't know his name. I taught up to eighty learners that year for the same client and confess I've always been terrible with names.
"Steve, I've tried so hard to impress you over the last two years. I've sat up late, worked weekends; I've missed holidays with my friends to write assignments that I thought would impress you. My dad was a very successful senior manager in this company (my client) and I've always wanted to be successful like him, but everyone has written me off. I thought you were different but when you said that to me this morning I thought I'd be better to just kill myself."
His words hit me like a bullet. Everything he said was true. I apologised immediately but told him we'd chat more in the morning. I then left for a sleepless night of self-reflection.
The next day I apologised again. I explained that I was dyslexic and did struggle with names but it was no excuse for how I'd spoke to him. I'd also checked back over the work he had submitted and it was indeed exceptional. We had a chat about his personal presentation and how he might come across to others. We spoke about how I had perceived him due to how he presented himself and subsequently he said he'd never realised before how he came across. I took time to give him some advice which would hopefully stop others judging him unfairly as I did.
Kevin accepted my apologies and we are still in touch today.
A few days later I sent him a copy of Richard Templar's amazing book, "The Rules of Work" with the inscription, "To Kevin, who taught me never to judge a book by its cover!"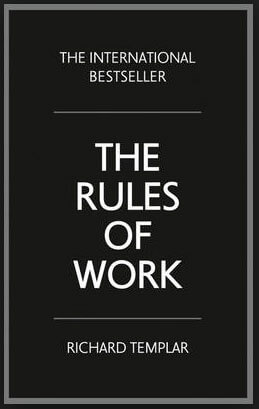 While the scenario had a (relatively) positive conclusion, it remains a day I never want to repeat. However, it is possible to learn as much (if not more) from the bad days as from the good ones, and this is what I took away from mine:
– Be careful what you say to people. Your throwaway words often have a much greater impact than you would ever think. With that in mind, try to tell your students, staff, friends and others you come across during the day something that will build them up and encourage them; not something that will bring them down.
– Never judge someone by their appearance or body language. There may be a reason for how they present themselves, which you might not understand – but it does not reflect who they actually are.
– On the flip side of the last point, remember you are always being judged. You can't stop people judging you, but with some self-awareness you can try and make sure most of those judgements are positive.
– Get to know names! People like to hear their names being spoken back to them. It shows you value someone enough to learn one of the fundamental basics of their identity.
As difficult as it was for me to write this piece, it has been an important event for me to reflect on, and one which I will choose to remember rather than try to forget. Furthermore if my honest account can make one person stop and think before they speak to someone like I did to "Kevin", it will have been well worth the struggle!
"While you judge me by my outward appearance I am silently doing the same to you, even though there's a ninety-percent chance that in both cases our assumptions are wrong." 
Richelle E. Goodrich, Smile Anyway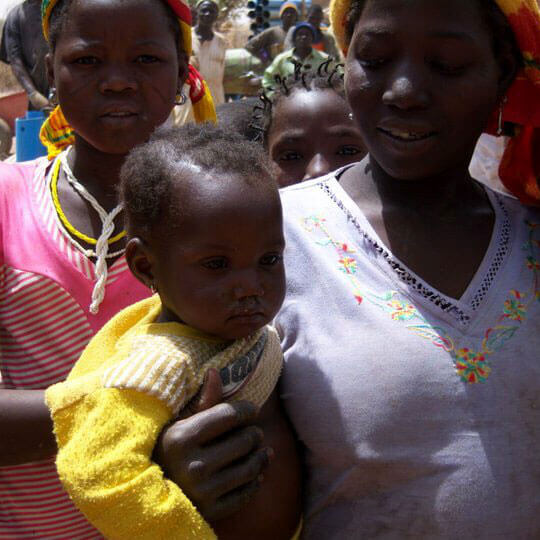 By Stephen Smyth (16th March 2017)
Stephen is a Director of 2000 Weeks and the British Water Engineering College (BWEC). His eclectic career to date has ranged from working as a cancer research scientist through to educational consultant with many twists, dead-ends, successes and failures in between. Today he shares with us the first part of his "best day, his worst day and what he learned".
In 2008, I was working as a laboratory manager for a large water authority in Ireland. One chilly Tuesday evening, I got chatting to a fascinating man called Mark Collier about the work he was doing with Friends in Action in Burkina Faso, West Africa. Mark, a geologist by trade, was drilling wells in the north of the country, supplying clean water to some of the most remote people groups on earth. His passion for his work was contagious and I found myself desperate to get involved.
With a water quality background, Mark asked if I would come out on a two week trip to carry out analysis on the sources currently being used in the area and comparing it to what was produced from a finished well. I jumped at the opportunity.
Day One
Descending from the steps of the comfortable Air France Airbus and walking into Ouagadougou airport was like being transported into another world. The air was warm, dry and dusty and the chaos, which seasoned travellers didn't seem to notice, was so disconcerting. The roads and houses were made of mud, and this was the capital city!
We still had a 16-hour drive ahead of us to an area which even the locals of Ouagadougou dubbed "very remote". If arriving into the airport was like being transported to another world, entering the first village we were scheduled to work in was like stepping back in time.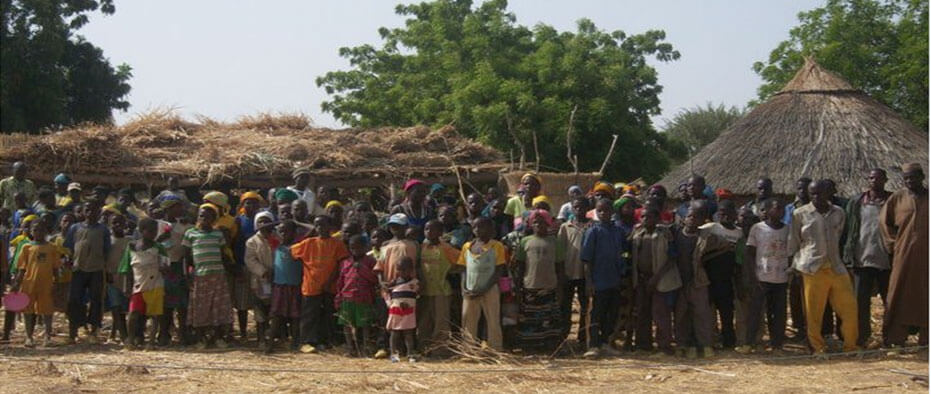 The village was called Tank yu Me, made up of mud huts and home to around 120 people. They spoke as much French as I did (about 20 words), were dressed in a motley array of "nth" hand western clothing and traditional dress, the children were naked.
We were greeted very warmly and immediately felt like celebrities. They knew why we were there and did everything they could to make us comfortable.
While the rest of the team were assessing a likely spot to site the borehole, I was taken by a group to the hand dug well they were using, about half an hours walk from the village. It was a hive of activity, surrounded by animated women, children playing and a cluster of undernourished cattle nuzzling the dry earth.
What they drew from that well brought a tear to my eye. The mother who hauled up the bucket brought up a batch of thick grey water, which she immediately fed to the toddler she had strapped to her side. Without thinking I took a photograph of the act, but this is an image I won't ever share.
I'm uncomfortable now with the idea of capturing that scene simply as a means of documenting a story I wanted to tell on my return home.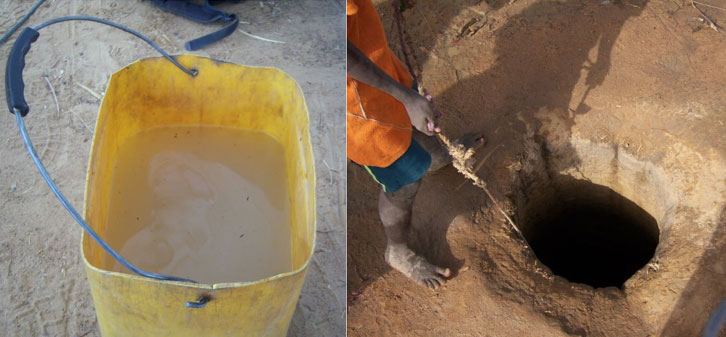 That night I set up a basic field lab and tested the water she had drawn for me. The results the next morning showed 3.2 million E-coli cells in 100 millilitres of water.
Those in the water industry will be instantly appalled but for those who aren't as familiar with water quality, that's about the same level as you'd expect from raw untreated sewage here in the U.K.
Day Two
On the first day of drilling we set up a perimeter of rope so we had space to work. The whole village crowded around the rope and watched our every move. At 3pm the temperature that day reached 50○C, the humidity was less than 3% so every breath sucked the moisture out of our bodies. We worked from 8am until about 4pm drilling into the desert and then we hit water!
Because of the pressure of the percussion-action drill bit the water shot up suddenly in a 3-4 meter high spring. The crowd went wild, jumping and dancing and laughing. I remember saying to one of the engineers on the team that it was easier than I expected. Of course we spoke too soon. About an hour later the well collapsed in on itself due to the weight of overburden. How could we tell 120 people, with whom we shared no language that they didn't have a well at all? Tired, hungry and dejected we made camp and settled down for the night, but we were not giving up.
Day Three
The next day we worked much more quietly in the same harsh conditions. We selected a site with significantly less overburden and we hit rock quickly. However, the rig we were using only had shafts to drill to a depth of 100 meters and at the full length of the last shaft we still hadn't hit water. We had worked all day to drill a dry hole, but we were not giving up.
Day Four
The expedition only had fuel to spend a maximum of three days at this village. On the final morning we knew that if we didn't hit water we'd have to drive away in the knowledge that we were leaving 120 men, women, and children to drink the contaminated water that was killing them.
Working carefully and deliberately we started to drill at a third site. Just after lunch we hit a massive aquifer right between the first two failed wells. A quick pump test showed that the well could produce more than 5 times the supply the village would ever need. Through the translator we were able to explain that they now had a supply of clean, fresh, safe drinking water right on their doorstep, because we did not give up.
We worked the rest of that evening to line the well and install the pumps. As I watched the children playing and laughing in the water as we sprayed it over them, in the shadow of the beautiful African sunset, I thought this could have been one of the most meaningful days of my life.
Confirmation, if it was needed, came that evening. As we all gathered around the well for final souvenir photographs, the village elder approached us with a goat. As he gave us the gift he spoke through a translator to thank us for the work…"You don't fully understand what you've done here today. But we we'll pass the story down of how you came and gave us this well for 100 years."
What did I learn?
Fail fast, learn quickly, work hard to improve and never give up.
Someone could have commented that day that we "were lucky" in that we happened to pick the right spot on our last roll of the dice. I would never accept that opinion. It's an often used phrase: "you make your own luck in life" but it's accurate. We worked hard in the face of failure, frustration and the sense this "wasn't fair". The team's hard work, resilience and perseverance paid off in the end, because we did not give up.
I know plenty of lazy, unimaginative, negative-minded people who would appear to be consistently "unlucky".
However, I don't know anyone who works hard, who perseveres in the face of adversity and who seeks to improve through their mistakes that aren't successful in their field.
Real professional satisfaction comes from using your skills, talents and energy to help others.
I've been involved in other projects which have personally made me hundreds of thousands of pounds yet none of them came close to giving the lasting satisfaction I got from working as a labour that day in West Africa. We spend half our waking lives in work.
That's too much time to waste! Let's work to be exceptional and make a real difference in the lives of others.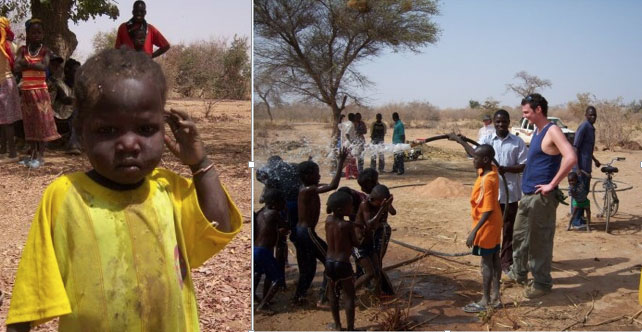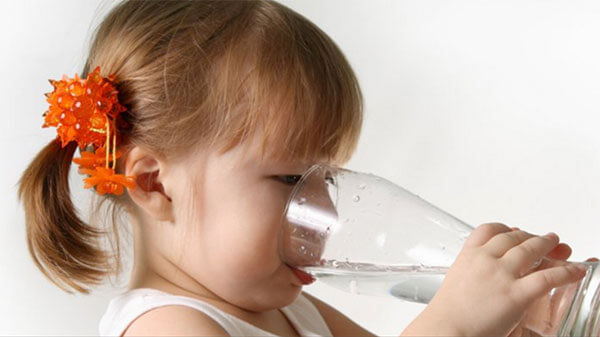 Part 2 of the blog will be published in April when Stephen will discuss his worst day.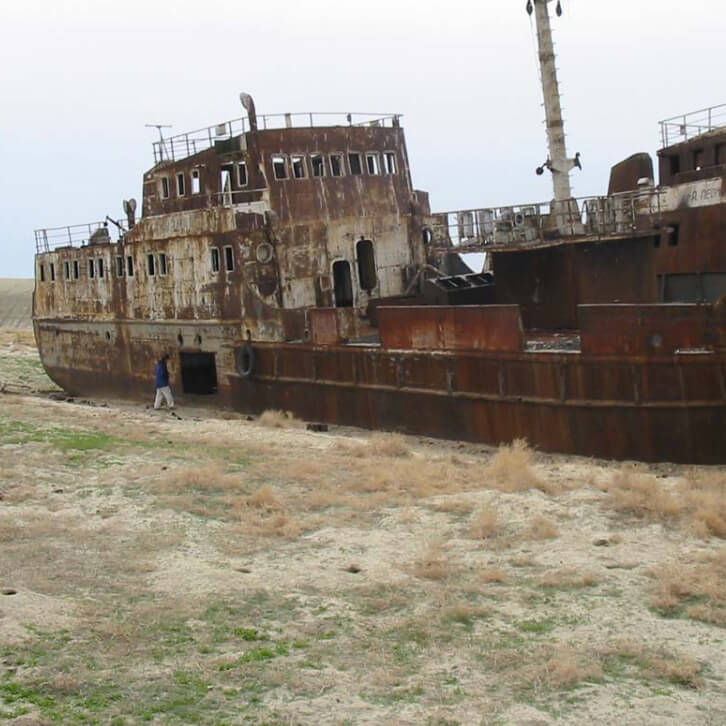 Excellent, if not slightly frightening, article in The Guardian this month regarding the challenges of water resource management.
We have seen how shortages affected the fabric of society and economy of South Africa in April and that is unfortunately likely to be only a foretaste of what is to come across large areas of Africa and South East Asia.
The need for managers and leaders in the Water Industry to have a good understanding of the theoretical principles and practice application of water resource management has never been greater. Our Level 4 Short Course Water Resource Management is delivered over a 4-day period by one of the most qualified and experienced water scientists in the world, Dr Fathia Abdulgawad. Contact us today for more information info@bwec.org.uk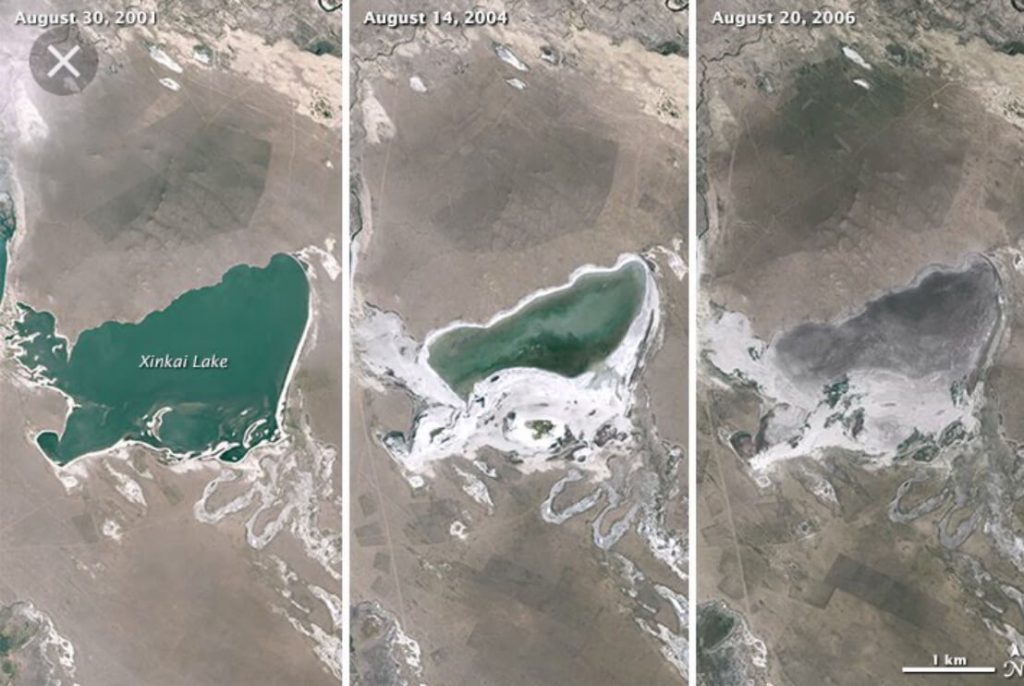 Shrinking lakes on the Mongolian Plateau